Linking up with Neely and Ashley for Sunday Social.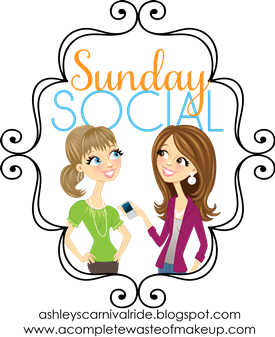 1. Top 3 favorite kinds of food
chocolate, pizza (but I'm a NY pizza snob), and anything that sounds unhealthy and decadent, but that I have tweaked to make it healthy!
2. First 3 things you do in the morning
AM bathroom routine, drink coffee or Spark, check my email/ blogs/ Facebook
3. Last 3 things you do at night
Fall asleep on the sofa, wake up and get ready for bed, set 3 alarms for the morning.
4. 3 TV shows you NEVER miss
Thanks to the amazing invention called DVR, I never miss Nashville, Four Weddings, any holiday special that is on: Macy's Thanksgiving Day Parade, Blake Shelton/ Michael Buble's Christmas shows and I hate to admit it, but I've been watching Buckwild lately to see how they portray wild and wonderful West Virginia - No, I've never gone swimming in a dump truck.
5. 3 places you want to visit
Mexico (less than 4 months til I'll be there), Hawaii (hoping to get there for our first anniversary), All of Europe
6. 3 people you can always count on
Tate, my Ohio lacrosse teammates, and a handful of my best friends from different parts of my life, and obviously my seeester!